The
Firm
Jose Hernández Barros graduated as a Senior Architect in 2005 at the Higher Technical School of Architecture of Madrid of the Polytechnic University with the Qualification of NOTABLE (2:1).
He began his professional career in Madrid in the Architecture Studio of Mr. José Luis de Miguel Rodríguez. Professor Architect of the ETSAM, specialising in structure.
Later, now in Granada, he completed an internship at the studios of Mr. Fernando Martín Muñoz in Granada and Ms. María Ángeles Vasco Bustos in Almuñécar, going on to found his own studio in 2006.
During this early years he combined freelance work with that of Municipal Architect in the Albuñol (Granada) City Council.
Our company will guide you with quick and simple solutions.
DEDICATED TO OUR CUSTOMERS
We have more than 200 clients who can vouch for our good work. Among them are such prestigious firms as Ferrovial and AENA.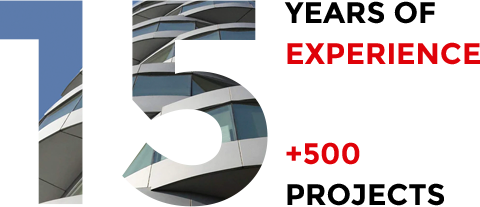 During these 15 years, the company has carried out countless Projects, Reports, Judicial and Party Valuations, Appraisals, Measurements, AFOS, New Construction, tourist accommodation and Energy Efficiency certificates, processing of Opening and First Occupation Licences, etc.
We are members of the "Group of Forensic and Judicial Expert Architects of Granada".
The company is made up of the following professionals:
José Hernández Barros. Senior Architect.
José Antonio Barbero Pozo. Technical architect.
Encarnación Hernández Barros. Senior Telecommunications Engineer.
Víctor Acosta Cobacho. Senior Architect, structural specialist.